USA Made and GCIU/IBT Printed
SAGE A+ Decorator 2022-23
Union Printed by Quality GCIU Workers

Full Color Union Printed Masks
Self Serve Store is Open Again
New USA Made Face Mask
Face Masks
On Sale !! Overstock
Distressed Foil Effect
UMASS
We Have the Best Clients
USA Made
Union Printed
Better Garment
Best Decision Ever
Union Shirts
How to Order
Online, E-mail or over the Phone?
Everyones style and comfort level is different when it comes to making and purchasing custom items. You can complete your order totally online, sending us an email or by calling us. Or any combination of those!
By far the easiest way to get things going. Go to the quote page fill out the form include your artwork if available. We will respond as fast as possible, if you say go we will spring into action and you will have shirts in a few weeks
This is a great way to get a professional looking shirt. 1) Pick your design from our gallery 2) Tell us what you want changed (add your local number, and city state) 3) Pick your garment from our catalog. We proof you and make your garments in about 2 weeks. Its that easy !
At unionshirts.net we have an online design studio as well as many usa made shirts offerings. You can do it all right there. Pick your shirt, design the imprint, place your order and they arrive about 2 weeks later.
Send a Picture of your Shirt
Go to the contact page and send us your picture it is worth a thousand words, send us a picture of your current shirt tell us how many you need and we will make them for you
Tried and True
We have been at this for almost 3 decades and remember the good old days of send us your art, pick up the phone, then we print your shirts and send them to you. That works fine ! send us your art to sales@unionshirts.com, then pick up the phone and call 800-836-2413. We can take it from there
Authentic USA
Union Decorated
Made in the USA
USA grown cotton, USA dyed, USA sewn
BBB Accredited
Make It Your Shirt
Because everything we do is custom your shirt does not have to be same old, same old.
Sweatshop Free
Bayside and UnionShirts.com pay our employees a fair wage. The aim of sweatshop-free wish to ensure that all employees are treated fairly and products are made in good working conditions. Sweatshop-free standards include the right to collective bargaining, non-poverty wages, safe workplaces, back wages - Wikipedia
GCIU 1156
We are proud of our workers and attach our label licence on all garments
Online Micro Store
We are now offering a free micro online store we are referring to these as pop up stores. We are one of the very few union t-shirt shops to be offering this service.
Online Order Tracking
We now offer online order tracking, you can see if your art has been approved, if your garments are in production as well as scheduled ship dates.
Awesome Support
We're here to help and your satisfaction is guaranteed, we really do care about every garment we print. Call 800-836-2413 M-F,9-5 eastern.
UNION
GCIU/IBT
We ship in weeks Not months
YOUR
DESIGN
Low 24 Piece Minimum
WE
DESIGN
No Art Charges Minimums Apply
USA
MADE
Union Printed Always
---
SERVICE
SUPPORT
On Time, In Budget
No matter your concern, we will be there for you. Your deadline becomes our deadline, we have been at this for a very long time. We will not take the order if there is any chance we cannot meet you expectations
---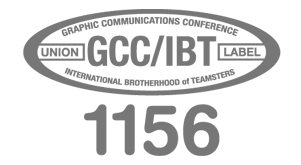 Large Selection of In Stock
We did not like the limited selection of USA made goods readily available, so we searched the country and we are now able to offer many more styles than some of our competitors
1
quality sewn
BAYSIDE 5040 Quality sewn and a great fit. 5.4 oz. Premium quality fabric, 100% pre-shrunk cotton, Open-end yarn, Full cut specs, Taped shoulder to shoulder, Two needle sleeve and bottom hem with 1 fashion collar
2
one size fits most

BAYSIDE STRUCTURED BRUSH TWILL CAP WITH PANCAKE VISOR- 100% Cotton unstructured washed cap with contrasting pancake visor, sweatband, and taping, 6 panel soft crown, Adjustable self strap with hide-away side buckle, Pre-curved bill
3
USA Made Sweats
Heavyweight
BAYSIDE FULL ZIPPER FLEECE WITH HOOD, Sizes : [S-4XL], Heavy 9.5 Oz. High quality heavy weight pre-shrunk fabric, 80% cotton 20% polyester full zipper hooded sweatshirt, Spandex in cuff and band, Front pocket with matching drawstrings on double lined
4
super soft
Shop Now...Made with our super soft fine jersey. 30/1 combed ring spun tri blend 50% polyester 37% cotton 13% rayon 3.8 oz/sq yd. , Set on rib collar, Double needle sleeve hem, Double needle bottom hem, Tape shoulder to shoulder, Side seamed, TEAR AWAY label
Top